Inside LA's $300M Experiential Workplace – Industrial Property Govt
Office development trends took a sharp post-pandemic turn, as hybrid and remote work is becoming the norm. Companies are trying to incentivize their workers to re-engage with workplace culture and physically come into the office. Tenants and landlords are becoming increasingly aware and recognize that in a post-pandemic work environment, it is not enough to just offer the latest amenities.
Market experts agree that new office developments should feature a balance between highly amenitized spaces and high-quality environments. A focus on health, wellness and workspaces that naturally encourage collaboration and discussion is becoming a key factor for developers and landlords looking to upgrade. A prime example of this trend is Los Angeles, where an increasing number of office buildings are being developed or renewed with these aspects at the forefront.
McCarthy Cook is one such developer, currently looking to revitalize and transform a 1980s-era office complex into a top quality property, meeting today's standards for workspaces. McCarthy Cook partnered with Northwood Investors for the $300 million redevelopment of Trident Center, in West Los Angeles' Sawtelle district. Dubbed LUMEN West LA, the 534,000-square-foot project is set to become a staple for what contemporary office development should look like, according to its owners. LUMEN is set to come online later this year.
To dive into what makes LUMEN West LA a prime example of current office development trends, Commercial Property Executive talked with Edward Cook III, co-president, co-chief investment officer & co-founder at McCarthy Cook.
"We believe it is fundamental to human nature to want to work in an abundant natural light with integrated access to outdoor amenities, fresh air systems and an engaged hospitality ecosystem, all to promote employee collaboration, personal wellness, social engagement and a value proposition for productive work in an experiential workplace," Cook told CPE.
What was the main inspiration behind LUMEN West LA?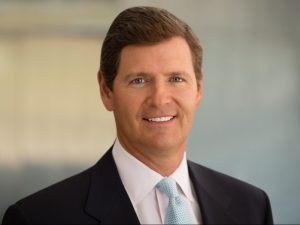 Edward W. Cook III, Co-President, Co-Chief Investment Officer & Co-Founder at McCarthy Cook. Image courtesy of McCarthy Cook
Cook: Our development and investment partnership of McCarthy Cook and Northwood Investors drew inspiration from a wide variety of disciplines when designing and developing LUMEN West LA, but none more important than addressing the dynamics and demands of today's workforce. LUMEN West LA was designed to reach beyond the conventional expectations of the traditional office environment by meeting the needs of tomorrow's innovative and flexible workforce, which values ​​experiential, amenity rich environments. This is why we refer to LUMEN's campus environment as "Workplace Illuminated: An Experiential Office Campus Designed for Tomorrow's Dynamic Workforce."
At McCarthy Cook, we pride ourselves on being 'workplace visionaries' and strive to understand the forward thinking and intuitive demands of today's office tenants and employees, while catering to the franchise enterprises that prioritize wellness and productivity within the workplace environment. In short, LUMEN is designed to maximize the employee's productivity, happiness and wellbeing, making the office a place you look forward to coming to.
As an 'experiential office campus,' what are LUMEN's unique features, and how will tenants engage with them?
Cook: LUMEN West LA was designed with a people-first approach to attract and retain top talent through its balance of workspace, amenities and indoor-to-outdoor areas. Our goal is to provide an experience, not just a workplace, and, in doing so, organically improve employee wellbeing and boost productivity.
One of the first things people will notice about LUMEN is the light-infused interiors creating an exciting visual and physical connection with the outdoors. Our campus offers 65,000 square feet of private outdoor amenity space, anchored by LUMEN's 1-acre private outdoor amenity deck—perfect for entertainment, social gatherings and convenient workspace. This is the largest private rooftop entertainment venue—with a capacity of more than 2,200 people—in West Los Angeles that can be used for live music concerts, all-hands company meetings, outdoor yoga classes or other recreational or business events.
Today's top talent demands more from their workspaces, and companies increasingly understand that an engaged workplace is key to getting employees to return to work. As part of our 1-acre amenity deck, LUMEN offers an exhibition kitchen with a custom pizza oven, Evo grills, Japanese inspired rooftop beer garden with beer and wine taps for private hosted celebrity chef events. Our curated chef gardens offer farm-to-fork ingredients to be grown and served daily at the on-site restaurants. LUMEN will also offer a Japanese beer garden where frosty pints of beer and wine are served among an assortment of local craft food in a communal style rooftop seating environment complemented by a coffee bungalow to get your morning craft coffee brew with a grab-n-go breakfast.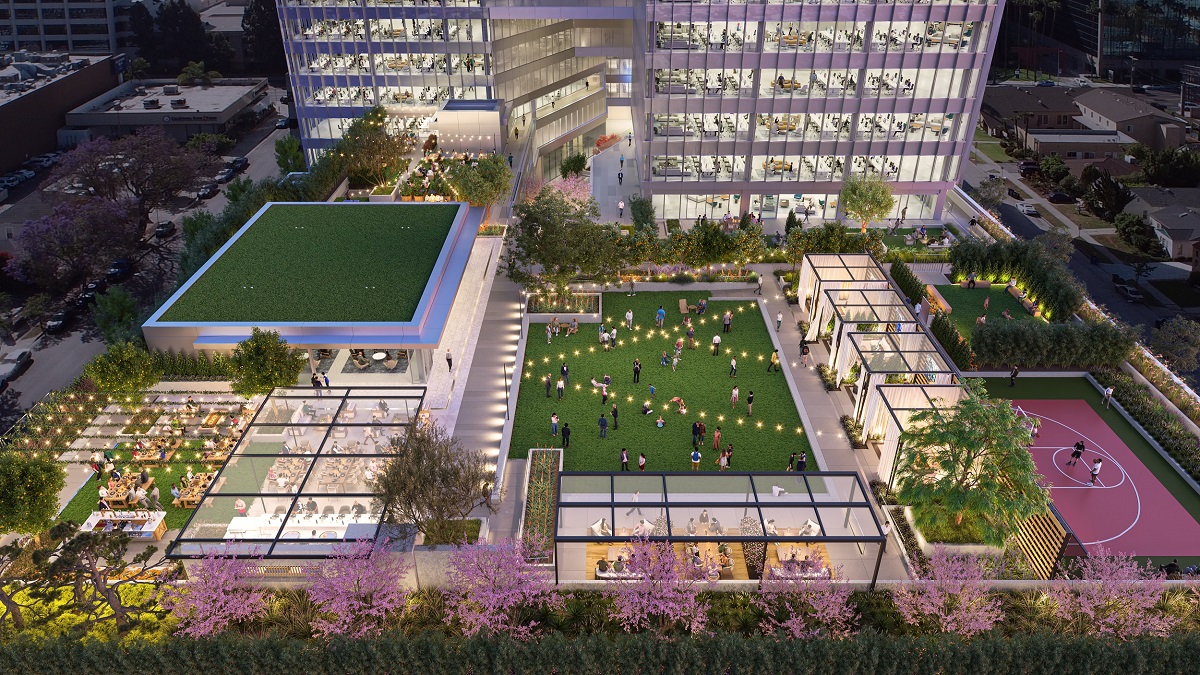 LUMEN's amenity deck. Rendering courtesy of McCarthy Cook
Our concierge-level amenities continue with a state-of-the-art fitness center with private training, basketball and pickleball courts, and Rejuvenate, a wellness lounge and spa.
We also believe in impromptu face-to-face time focusing on 'flexible workforce circulation.' Every Lumen floor is connected both horizontally and vertically via terraces, bridgeways or interconnected stairwells, so people can circulate throughout the entire campus without needing an elevator.
In a post-COVID world, where health and safety remain a top priority for people, our four-pipe HVAC system, MERV-15 air filters, dedicated outside air economizers, optional UV air filters in elevators and an abundance of outdoor workspace ensures our people are working in a safe environment.
We are the first project in West Los Angeles to offer private VIP transit shuttles to and from the EXPO stations, while we also feature a bike share program on campus. LUMEN also offers an above-standard parking ratio of nearly five spaces per 1,000 square feet, including three above-grade levels and two below-grade levels, with VIP direct-elevator access, and 88+ electric vehicle charging stations, including the first Tesla Supercharger facility in a private project in West Los Angeles.
How did you decide on a redevelopment of the Trident Center? What makes this a good location for LUMEN?
Cook: Trident Center was completed in 1983 and consisted of two 10-story office towers, built with what is now an antiquated floorplate size and layout design and dense, concrete curtain wall. Given the project's prime location along Olympic Boulevard and near Sawtelle's restaurant amenities, there was tremendous opportunity to modernize this asset. LUMEN is highly accessible via the 405 and 10 freeways, Metro transit, bike share and rideshare, while being only a 10-minute drive from other prestigious West Los Angeles office submarkets like Century City, Westwood, Santa Monica, Beverly Hills and Brentwood and the affluent executive housing areas of West Los Angeles.
The Sawtelle Japantown community is a diverse and exciting part of the West Los Angeles food scene and one of the fastest growing neighborhoods in the region. This community boasts a wide array of ethnic cuisines ranging from Michelin-rated establishments to bubble tea shops and ramen eateries. We chose early to embrace the success of Sawtelle Japantown and volunteered 150 parking spaces for restaurant goers after hours to support the vitality of these great eateries and reduce congestion on residential streets.
The community is also very pedestrian and bike friendly. There are bike lanes and flat sidewalks at nearly every street in Sawtelle. Whether it's grocery shopping, going out to eat, browsing at a souvenir shop or grabbing a drink, most tasks and activities can easily be accomplished on foot.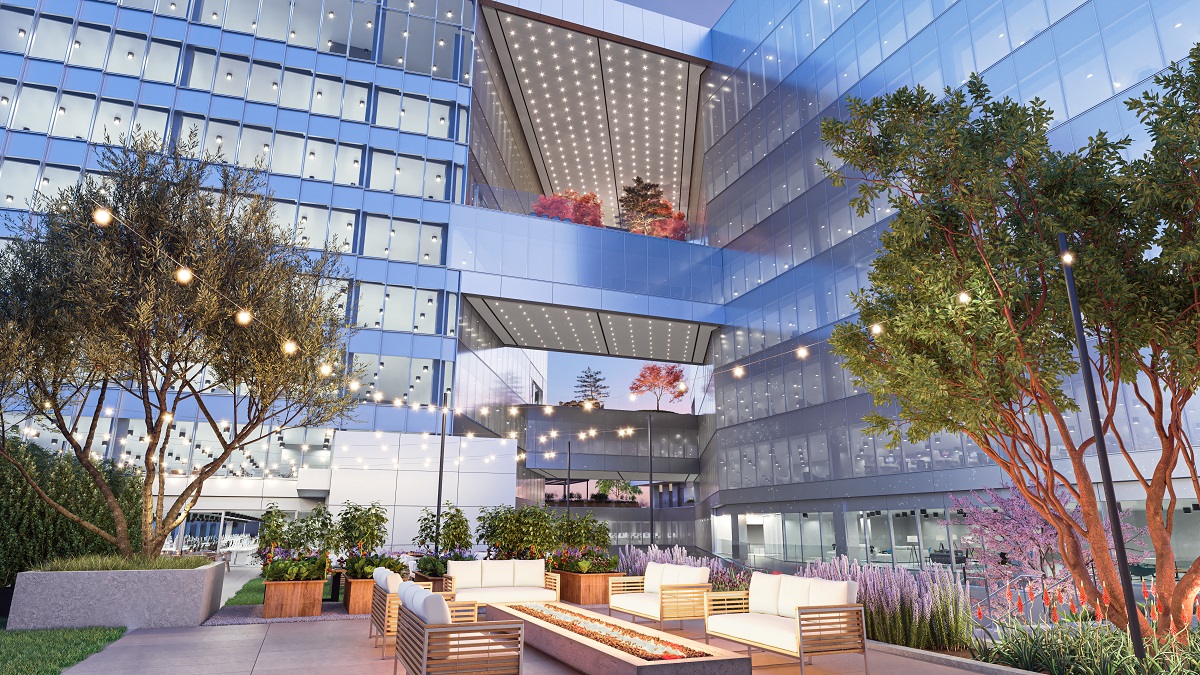 LUMEN's two towers are interconnected by bridgeways. Rendering courtesy of McCarthy Cook
Office demand has shifted towards favoring bespoke or high-quality developments. Where do you think this trend will lead?
Cook: We believe the trend of favoring high-quality, amenity-rich developments is here to stay. The fundamental takeaway is that tenants and their workforce expect more from their workspaces than they once did. As people continue to spend most of their day working, we believe it's crucial to their success and overall wellbeing to create environments that mirror the comfort and intimacy people feel within their own homes. Amenities such as ample outdoor space for working, meeting or simply taking a break are no longer considered nice-to-haves, but are now integrated into every project design we do.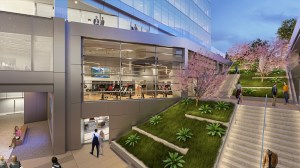 Another one of LUMEN's features are the open stairwells. Rendering courtesy of McCarthy Cook
Within the interiors, tenants will favor configurations that allow for drop-ins or hot desks that are increasing in popularity as hybrid workers toggle between work-from-home and work-from-the-office. Indeed, the physical workspace has become an important recruitment tool for businesses and our goal is to lead the path forward with inspiring designs and well-thought-out programming and amenities.
It is impossible to know what the future will hold, but in today's uncertain landscape, where tenant expectations are rapidly shifting, building owners can position themselves for success if they understand their tenants' needs and meet or exceed those needs at every turn.
What are the main trends in office development for the year ahead?
Cook: The disruption of 2020 and 2021 massively changed how people feel about their workplace environment. Studies show that workplace health and safety is a top concern for employees who are returning to the office. As workers reprioritize their health and well-being, offices must meet the need to integrate indoor and outdoor spaces, and support an overall sense of health and wellness. WELL building certifications and adhering to healthy building standards will become the norm for buildings that want to attract long-term tenants.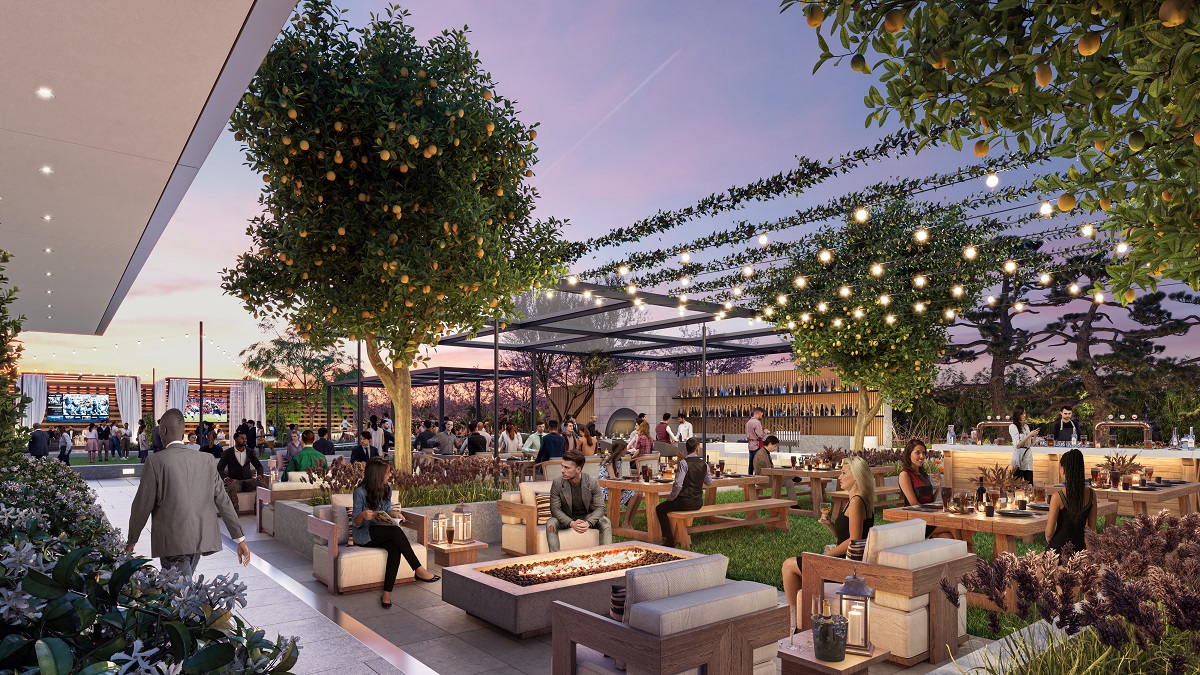 LUMEN's beer garden. Rendering courtesy of McCarthy Cook
In a 2022 Gensler Design Forecast, another trend we are seeing in office development is the desire to develop office spaces that trace casual collaboration. The workplace must become a renewed destination for social interaction with fellow employees. In other words, don't put up the walls and focus on the human interaction. Open air lobbies, stairways, lounges and activated lobbies in common areas are in high demand because of the way they encourage movement, facilitate social interactions and spur casual meetings with various companies within multi-tenant buildings. On-site outdoor areas also provide opportunities for meetings and collaborations among tenants and neighbors.