Hanchic in Los Angeles Offers Korean Fusion a Good Title
The 2.7 square-miles of LA's Koreatown holds one of the densest concentrations of restaurants, bars and nightclubs in the US Hundreds of restaurants specializing in traditional Korean cooking buzz within the borders of the world's largest such neighborhood.
Here, Angelenos sample san-nakji, a plate of chopped live octopus, the tiny tentacles clinging to the cheeks of those trying their best to slurp down the wriggling pieces. Goat lovers delight at Mirak Restaurant, where the staple is a fortifying black goat stew known as yumso-tang. The menu at Palsaik is devoted entirely to pork belly and its purported health benefits. Destinations for grill-it-yourself barbecue, soondobu jjigae (a stew based on soft tofu, meats, chiles and other items), rice porridge and cold noodles are legion.
But in the landscape of LA Korean restaurants, Hanchic is like no other. A small square of colorful murals and excellent Korean-fusion recipes in Westlake, it is a few blocks beyond the official eastern edge of Koreatown, below MacArthur Park.
Hanchic indeed boasts of "Korean food like no other" on its signage, split between the mostly Korean businesses sharing its strip mall location. The name itself offers an early clue to its iconoclastic menu – "han shik," the word for traditional Korean food, albeit with a "chic" twist.
Opened amid the pandemic by partners Dustin Lee, Kevin Son and chef Kyungbin Min in September 2020, the dishes here are rooted in genuine Korean flavors, while bearing the unique influences of international cuisine.
"We try to be creative," Dustin says. "At the same time, we want to be as traditional as possible in terms of cooking – adding a little twist to make it different than what other restaurants do."
At Hanchic, the influence of French bouillabaisse merges with seafood jjamppong in a dish called bouillabong. Its spicy, fish-based broth is brimming with half-submerged shrimp, clams, mussels and a tangle of thick egg noodles.
It's restaurants like Hanchic that will continue breaking down the resistance of the fusion-phobic in Los Angeles. Even if diners resist the term itself, Hanchic's tables are packed, proving that the proof is ultimately in the bulgogi risotto.
Galbi-jjim, a cornerstone of Korean home cooking, looks like it sprang out of a US steakhouse, landing on tables as a bone-in short rib aside an army of ssam (lettuce leaves). Arborio rice risotto comes studded with bulgogi, the tropical sweetness of the beef's marinade bleeding into the iconic Northern Italian standard. A Berkshire pork loin is paired with a hummus based on doenjang, or fermented soybean paste.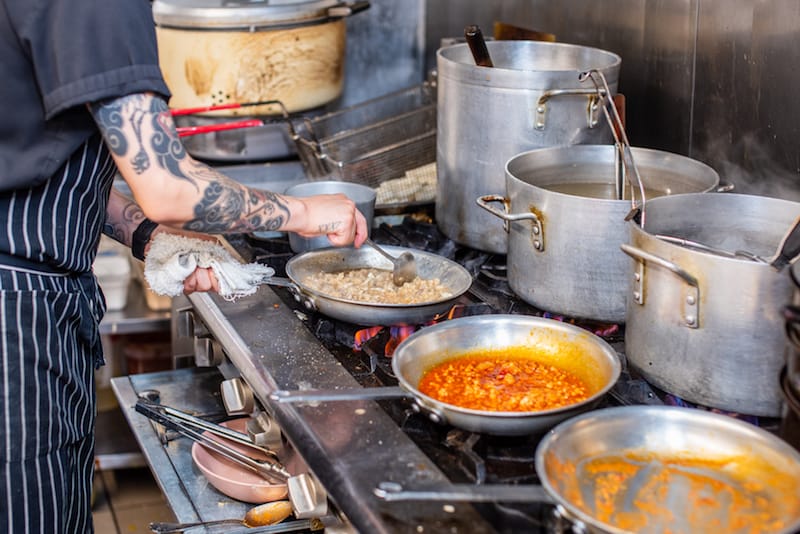 "I wanted to portray Korean flavors in an aspect where I can meet in the middle with people that don't know Korean food," the Korea-born, Gardena-raised Kyungbin says. "You may not know bulgogi or what it tastes like, but you may know the risotto aspect. So, you feel comfortable ordering it without really knowing what it tastes like."
"Authenticity" may be one of the greatest assets of LA's food scene. Recipes adhere to the traditions of distinct international regions prepared by multi-generational cooks to offer their communities a longed-for recipe from home. The word "fusion," on the other hand, is perhaps LA's culinary equivalent of nails on a chalkboard, recalling generations of Western chefs who clumsily stabbed and squirt-bottled at flavors they had no expertise in. But mixing cuisines is an undeniable driver of LA's edible innovation.
It's where Nobu Matsuhisa added Peruvian flair to Japanese recipes and pupusas can be filled with birria de res or béchamel (like at Walking Spanish). Where Roy Choi's Korean-Mexican Kogi was trailed by a fleet of trucks offering different nations' culinary heritage in the form of tacos – from Jamaican to Irish to Burmese.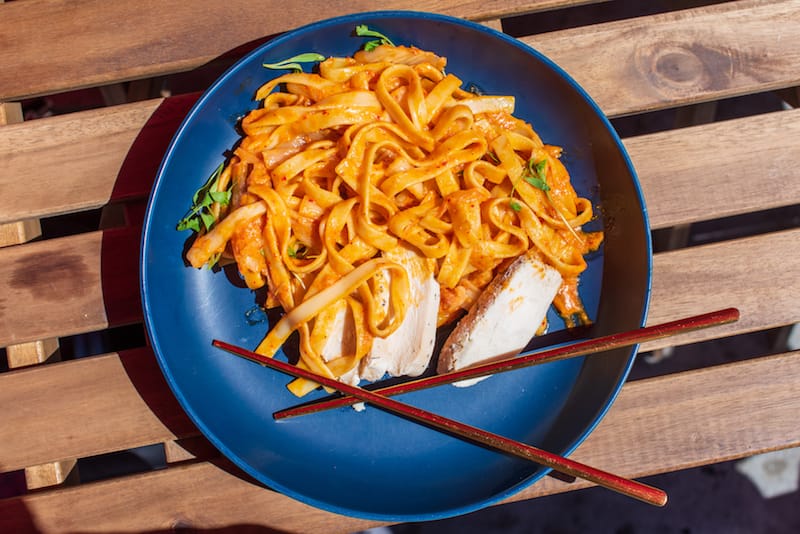 Typically, it's the city's first-generation children who embrace fusion in their cooking, if not in their vocabulary, splicing the cuisine of their parents and grandparents with the broad international range and fast-casual snacks of their US upbringing. For young men born in the US to Korean families, or who immigrated at an early age, fusion is a way to express a perspective and individuality that extends beyond what's expected.
"We feel it's our generation's turn to represent Korean food and show our side of Korean-ness, different than those traditional mom-and-pop shop restaurants," says Dustin, who moved to Phoenix from Korea at 15. "We want to show people that there's most than just traditional Korean culture. We want to show them the fun side."
"Everything's just playful here," Kyungbin, an industry veteran who grew up on Korean food but never cooked it professionally, agrees. "Let's play around with things… different cultures, different influences. But then, so keep it Korean-focused."
In this mission, Italian plays a large role in Hanchic's Korean mashups, serving as both flavor-foil, supporting player and the very stage itself. In addition to bulgogi risotto, the menu offers kimchi tagliatelle, its creamy, cheese-slicked ribbons cut by the delicate acidity of the rendered pickled cabbage and preserved lemon it's cooked with.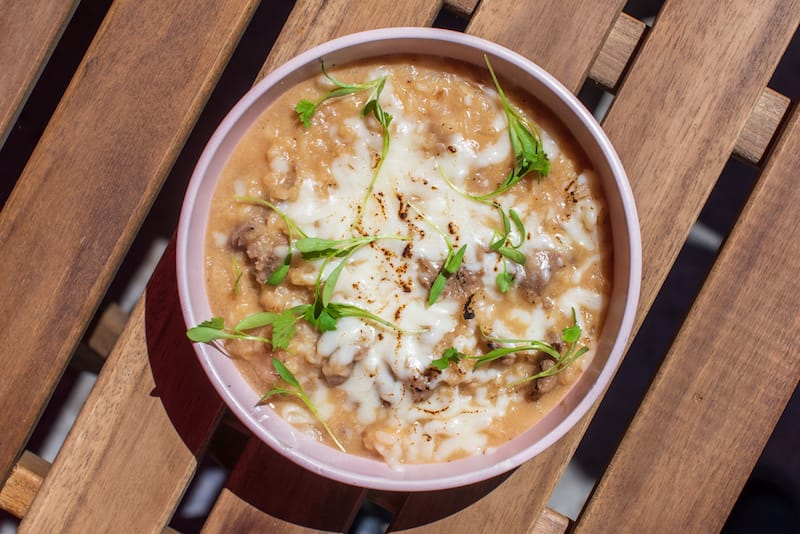 Tteokbokki wade in pork belly ragu and kimchi, a pleasantly chewy combination of sticky rice cakes and spicy red sauce. Mandu dumplings are tossed in a Bolognese of soybean paste, tofu, cheese and kimchi. It all organically showcases the strengths of both cuisines without anything feeling like a gimmick.
"We never wanted to call it fusion Korean, but now we don't really care," Dustin says. "I feel like we do a really good job of doing fusion Korean food. And even if we say we're not fusion or it's more of a modern Korean concept, people are going to say it's fusion. So, might as well just let them say it. And we'll continue to do it right."
Ultimately, it's restaurants like Hanchic, like Nobu and Kogi before it, that will continue breaking down the resistance of the fusion-phobic in Los Angeles. Even if diners resist the term itself, Hanchic's tables are packed, proving that the proof is ultimately in the bulgogi risotto.
May 12, 2022 El Jaliciense
When the hour strikes eight on Saturday morning, Hector Ramirez pulls the wooden […] Posted in Los Angeles
November 18, 2021Los Angeles
It's Sunday morning in Los Angeles. Behind the white door of a single-story house […] Posted in Los Angeles
July 25, 2022 Naan Hat
Even as traffic slithers to a crawl west of the 405 Freeway on Santa Monica Boulevard, […] Posted in Los Angeles
Hadley TomickiVitaly Belousov
Related stories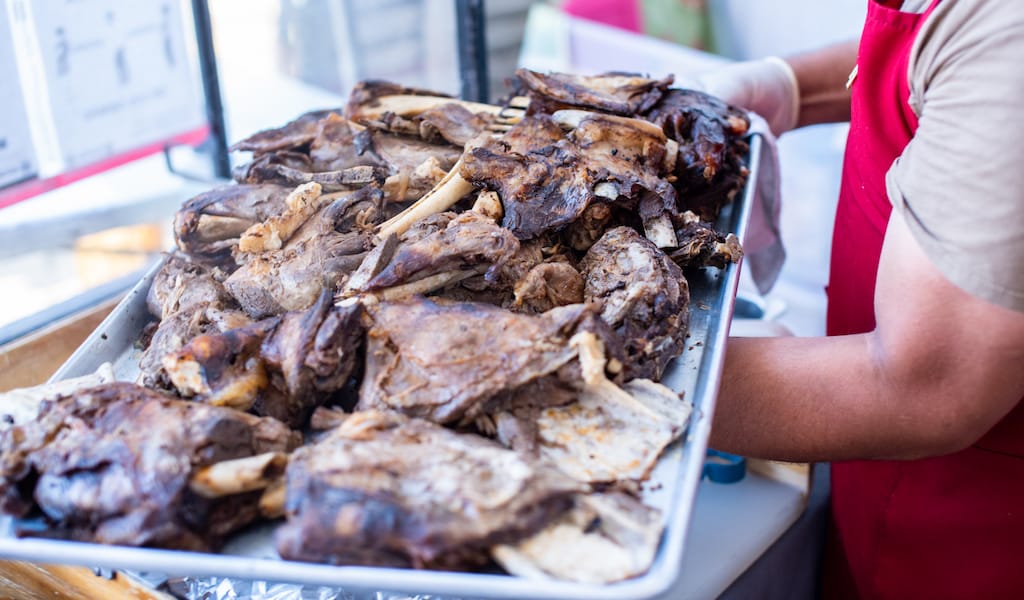 May 12, 2022
los Angeles | by Hadley Tomicki
By Hadley Tomicki
los AngelesWhen the hour strikes eight on Saturday morning, Hector Ramirez pulls the wooden handle on a cast-iron lid sealing his self-constructed, propane-fueled, cylindrical oven and unveils his birria tatemada. The Ramirez family is bustling. Hector's wife, Marisela, generates a steady rhythm quartering fresh limes. Nearby, their young daughter, Gisel, stands over a scorching griddle heating…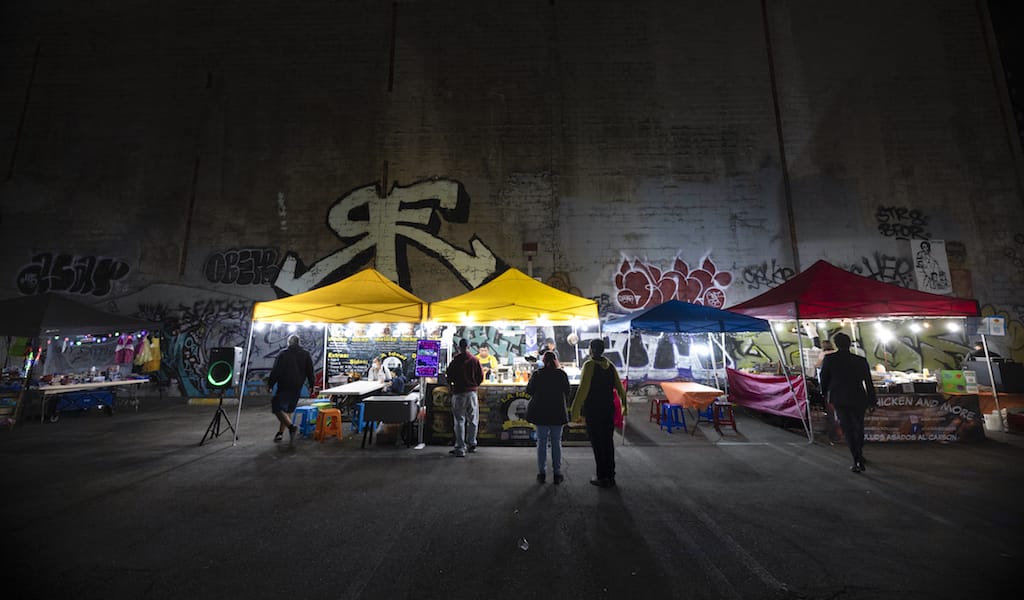 November 18, 2021
los Angeles | by Hadley Tomicki
By Hadley Tomicki
los AngelesIt's Sunday morning in Los Angeles. Behind the white door of a single-story house that blends in with its suburban neighbors, Jalia Walusimbi starts her day as she does every other. Stripping the tough green skins from a cluster of plantains, she plunks the peeled fruit into a boiling pot to prepare a dish of…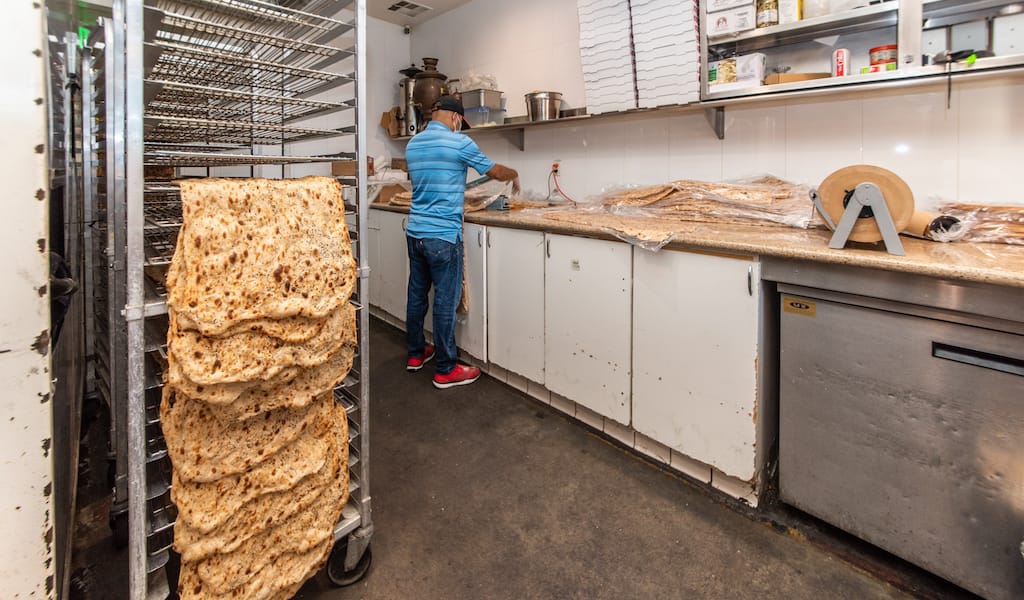 July 25, 2022
los Angeles | by Hadley Tomicki
By Hadley Tomicki
los AngelesEven as traffic slithers to a crawl west of the 405 Freeway on Santa Monica Boulevard, drivers may be hard-pressed to notice the small storefront known as Naan Hut standing on their periphery. Neither its name nor its red-and-yellow signage offer any indication that a 1,000-year-old Persian tradition of baking naan sangak is upheld within…