Falafels and Cauliflower Shawarma At LA's Greatest Vegan Pop-Up
Cauliflower shawarma, lentil arayes and a killer sabich – Amit Sidi is cooking some of the best vegan food in town at B'Ivrit, her Israeli street food pop-up. Amit is not vegan. She's not a trained chef either. But she rolls up to bars around northeast LA – and Smorgasburg every Sunday – offering an impressive lineup of dishes, both creative and classic.
It almost didn't happen at all. Amit grew up in Israel, and after she moved to LA she spent most of the next 15 years working in Hollywood, as a producer and in the costume department. She liked that world – especially costumes – but, as she puts it, "it's mentally very draining… and there are a lot of angry people." At the same time, she noticed a distinct lack of hole-in-the-wall falafel joints near her house in Silver Lake.
Los Angeles has a large Jewish community spread across the city, but casual Israeli restaurants are few and far between. There are some clustered in the city's traditionally Jewish neighborhoods – Pico-Robertson and Fairfax – and there are good options strung out along Ventura Blvd in the Valley but, otherwise, Israeli food mostly makes its presence felt on the higher end of the scale.
For a while, almost every buzzy new restaurant tilted towards the Levant. There was fresh house-made pita in a big wood oven in the Arts District, two kinds of zhoug on the menu in Santa Monica, harissa drizzled over vegetables in Hollywood. In Silver Lake, where the vibe of the tight-knit Jewish community hews closer to Big Sur than to Israel, there was Bowery Bungalow and the brilliant but short-lived Mh Zh. And while falafel can be found across Levantine communities the city over, that of Amit's dreams was missing. Her next step was only too natural.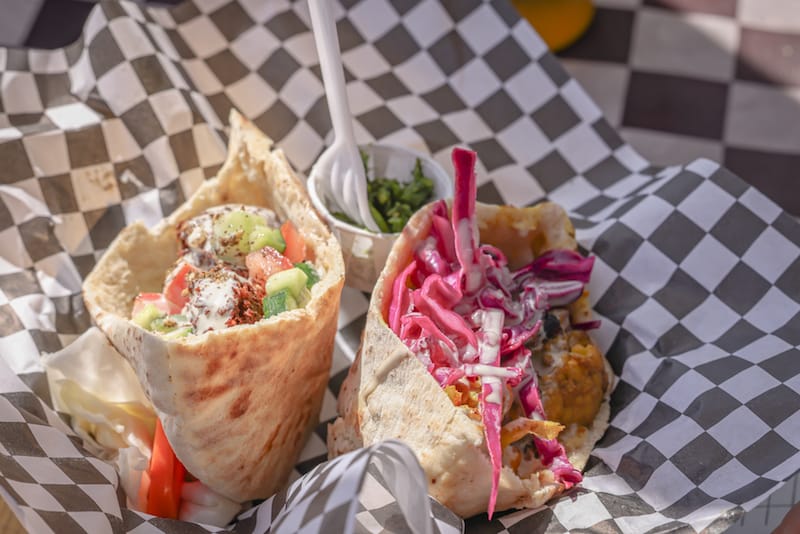 She's friends with Sarah Bessade, the owner of excellent French bistro Loupiotte Kitchen, and in July of 2019 Amit took over Loupiotte for a night to sell falafel, her first pop-up. Her falafel are perfectly fried, crackling with spices, bright with herbs and tucked into a fluffy pita with pickles and hummus. She was busier than she expected and sold out almost, so Amit did a second night at Loupiotte—and that one was even busier. From there, she was off to the races.
"I got hungry for it," Amit says, "and it's just so fun, this community of food… It's awesome."
For all of her enthusiasm now, Amit says that growing up, she didn't even like falafel. "To me, it was just a big commitment. A whole pita with all of these things that are the same… It wasn't fun enough, it wasn't interesting enough," she says.
"I just think [about] what I enjoy about the dish, the fat, the warm spices, and then I reverse engineer it," Amit says.
When she started to develop her own recipes for B'ivrit – which means "in Hebrew" – she came up with three different versions of falafel. One is bright green, light and fresh with herbs, another is stained dusty gold with turmeric, and the third is a sharp spicy red. When you have them all haphazardly tucked into a single pita, the effect is exactly as Amit intended – sometimes you get a punch of heat and sometimes you get an earthy turmeric musk. They're not so distinct as to clash, but each bite is unique, and it holds your attention through an entire generous serving.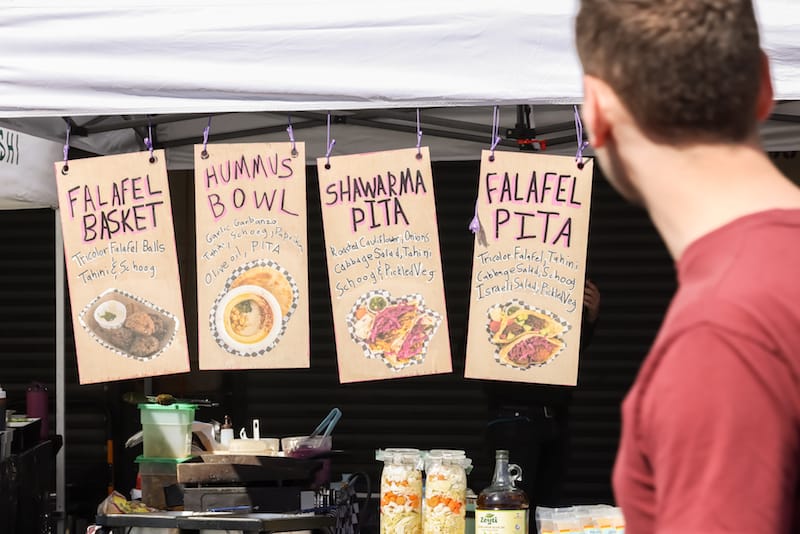 This analytical approach – isolating her problem with falafel and coming up with a solution – has served Amit well in developing her menu and making vegan versions of popular dishes. It's how she came up with her cauliflower shawarma, too. She isolated what she really liked about shawarma – the spice blend, the char, and the way it interacts with the airy inside of pita – and determined the best way to hone in on those aspects. Cauliflower is perfect for charring and holds spices well, so it was a natural choice. The same thing happened with her version of sabich (pita stuffed with fried eggplant) and arayes (pita stuffed with ground meat and then grilled), the latter of which she makes with black lentil, mushroom and eggplant instead of ground beef.
"I just think [about] what I enjoy about the dish, the fat, the warm spices, and then I reverse engineer it," Amit says.
There are no jars and no industrial meat substitutes in her kitchen, no soy-protein isolates and nothing in a plastic wrapper. So instead of calling her kitchen "vegan," Amit likes to refer to it as a "vegetable kitchen." Everything starts as whole vegetables, and she analyzes, breaks down, disassembles and reassembles her dishes from scratch.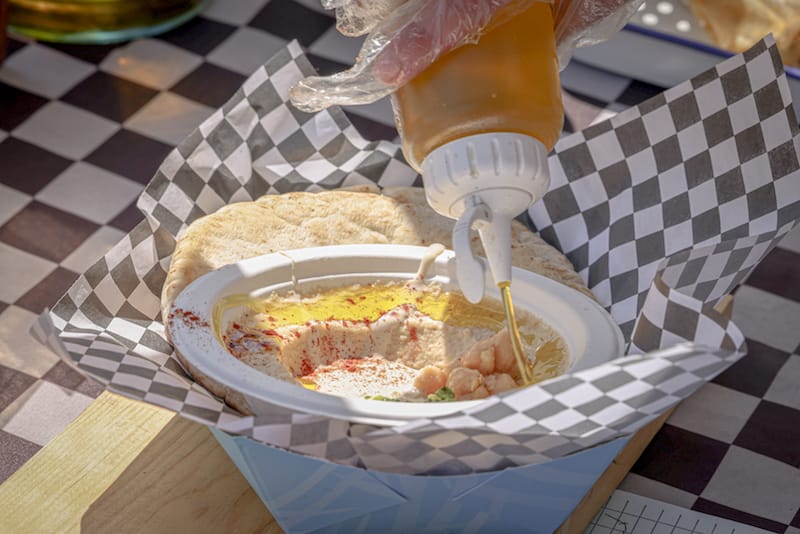 That lines up with Amit's general ethos – she is not vegan, but supportive of the cause; not necessarily against pre-made food but not interested in using any herself. Above all, Amit says, "I didn't want to build a business off of anything suffering." Which also explains her preferred pop-up locations: outside of bars.
Her falafel in a pita is perfect drinking food, crispy and flavorful and attention grabbing, hearty and still healthy. And if you've had one too many, it's a solid base to help prevent any suffering the next morning. Low-key bars like 4100 in Silver Lake – her most frequent pop-up location – are her vibe anyway. Coffee shops are less fun, too high strung, she says.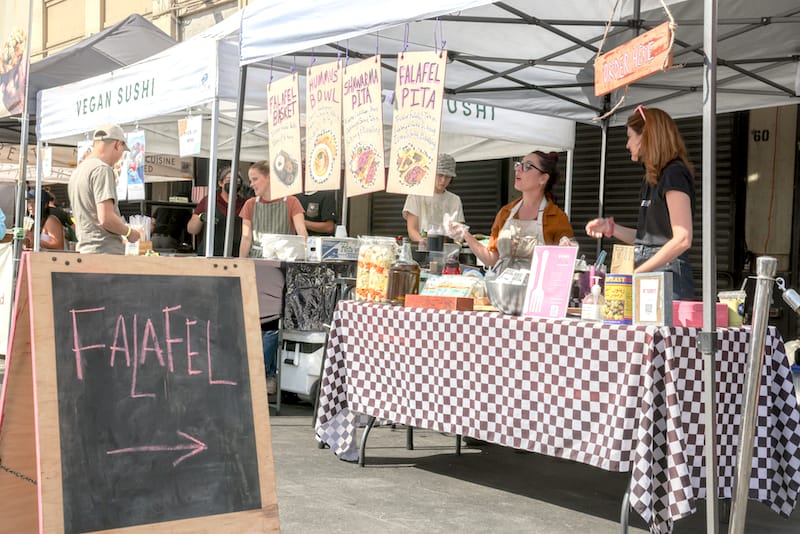 Eventually, she'd like to have a brick-and-mortar, a hole in the wall to call her own. But for now, you can find Amit posted up at bars where the drinks are flowing, frying falafel and stuffing them into pita, slicing and blending and engineering her vegetables into new shapes, preventing suffering one ball at a time.
For hours and pop-up location, check out B'ivrit's Instagram: @bivritla.
June 2, 2022 Échale Ganas
Editor's Note: Our Los Angeles Walk Leader Ulysses James Salcido III recently served as […] Posted in Los Angeles
January 12, 2022 Introducing Los Angeles
Ahead of our recent launch in Los Angeles, we spoke to our LA editorial advisor Hadley […] Posted in Los Angeles
December 22, 2021 Best Bites 2021
2021 was the second-driest year in California's recorded history. In LA, there was no […] Posted in Los Angeles
Ben MesirovUlysses Salcido
Related stories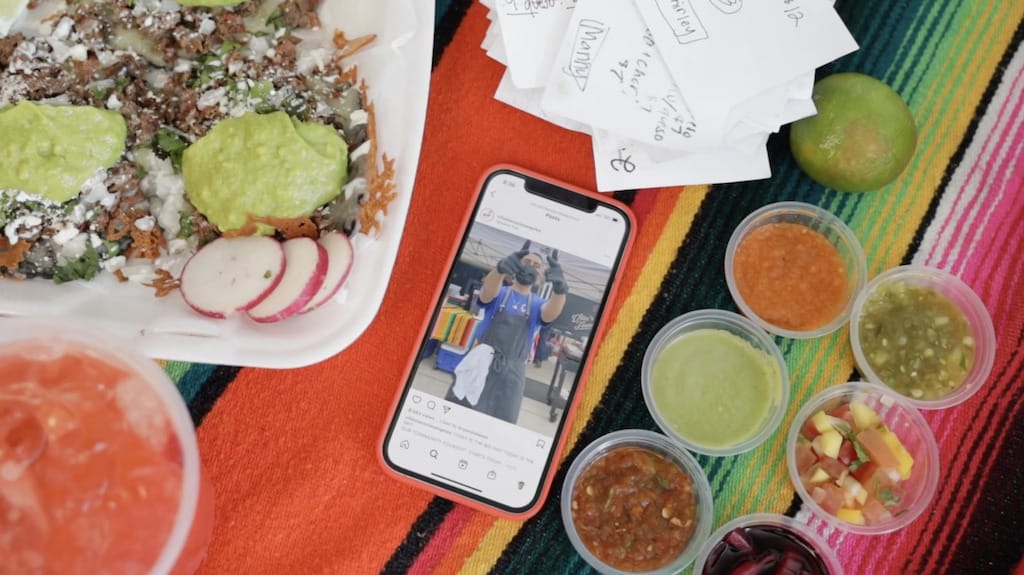 June 2, 2022
los Angeles | by Ulysses Salcido
By Ulysses Salcido
los AngelesEditor's Note: Our Los Angeles Walk Leader Ulysses James Salcido III recently served as a producer and cinematographer on Échale Ganas, a documentary that tells the story of a family-run taco stand in LA For this special feature, we asked Ulysses to tell us a bit about the film and the taco makers its profiled.…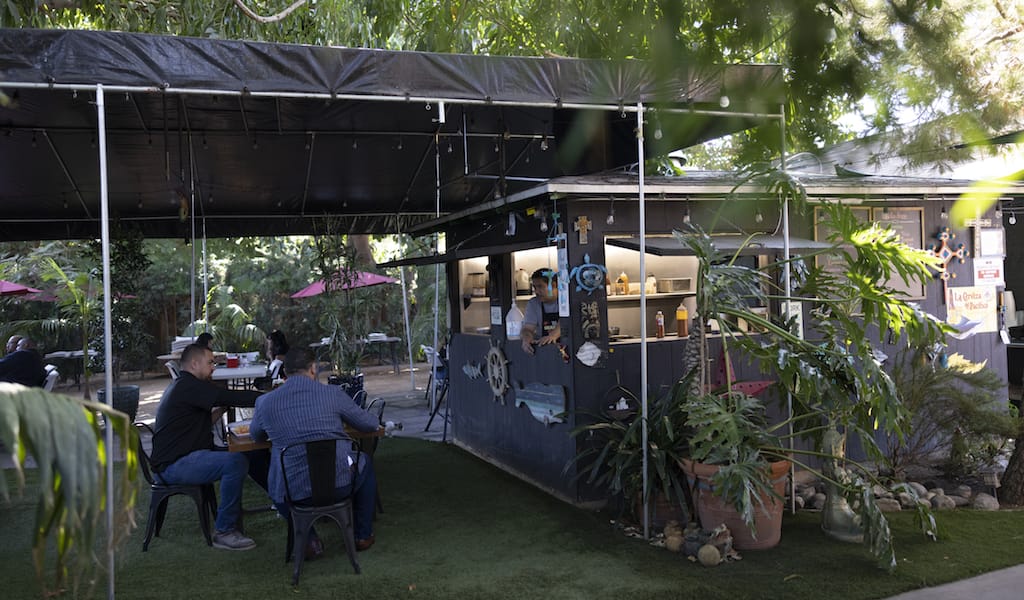 January 12, 2022
los Angeles | by Culinary Backstreets
By Culinary Backstreets
los AngelesAhead of our recent launch in Los Angeles, we spoke to our LA editorial advisor Hadley Tomicki and LA walk leader Ethan Brosowsky about their relationship with food in the city and their views on its culinary atmosphere. Hadley is a Los Angeles-based critic and journalist whose work has appeared in the Los Angeles Times,…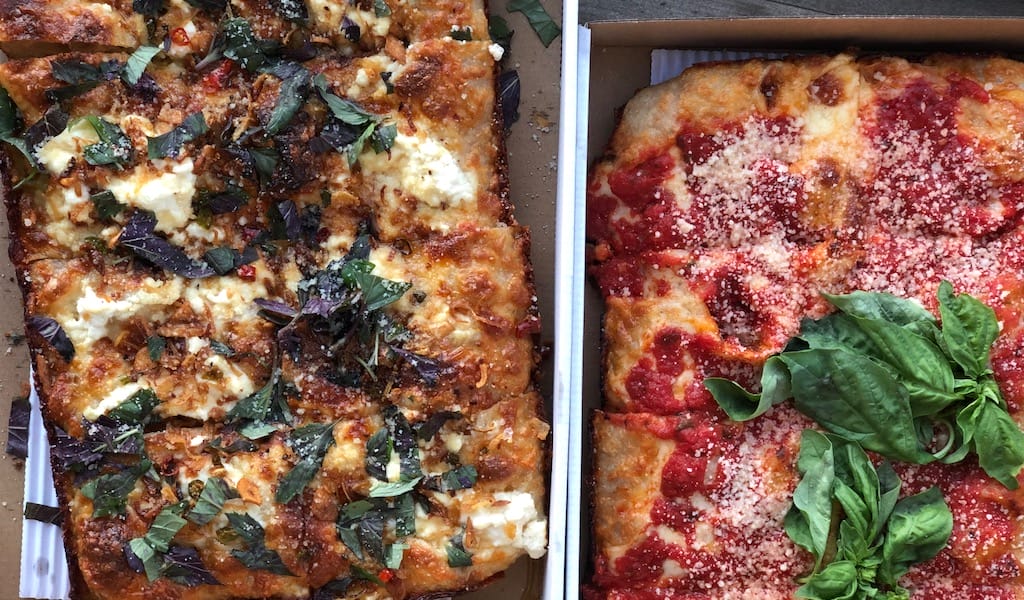 December 22, 2021
los Angeles | by Ben Mesirov
By Ben Mesirow
los Angeles2021 was the second-driest year in California's recorded history. In LA, there was no rain in November for the first time since 1992, and the mercury settled above 80 almost every afternoon that month. Our climate is usually arid, but this is extreme. We are in a drought (despite some recent record-breaking rain), with depleted…